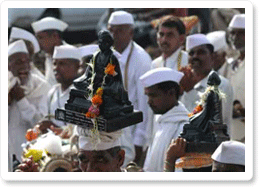 The annual Pandharpur Yatra (Waari) to the Vithoba Temple at Pandharpur in Maharashtra from Dehu and Alandi attracts millions of people and pilgrims known as warkaris.
Pilgrims follow the Shri Tukaram Maharaj Palkhi from Dehu and Sant Dnyaneshwar Palkhi from Alandi, which is a 21-day travel by foot to Pandarpur.
Sant Tukaram's Palkhi procession starts from Dehu & reaches Pandharpur via Aakurdi, Pune, Lonikalbhor, Yavat, Varvand, Baramati, Indapur, Akluj & Wakhri respectively.
Sant Dnyaneshwar's Palkhi starts from Alandi & reaches Pandharpur via Pune, Saswad, Jejuri, Lonand, Faltan, Natepute, Malshiras, Velapur, Shegaon & Wakhri to Pandharpur.
This Year Sri Sant Dnyaneshwar Maharaj Palkhi Prasthan Sohala at Alandi is on June 21st, 2022 (Tuesday). Palakhi will start from Alandi for Pune on Wednesday, June 22, 2022 and from Pune to Saswad on Friday, June 24, 2022.
Please contact Govind Patil (+91-98509 27785) or Raghvendra Katikar (+91-88888 11705) or Renuk Pawade (+91-98509 52218) or Suresh Talekar (+91-98215 80888) or Prasad Kulkarni (+91-98508 11066) or Kedar Gadgil (+91-90110 13973) or Shrihari Gadewar (+91-94225 39843) or Lalkar Chhadawelkar (7774008916) for more details.
Ashadhi Ekaadashi this year is on Sunday, July 10th, 2022
IT Dindee will observe all governement guidelines as applicable for Covid-19 and be socially responsible.
Instructions -
Please select Seva Interest of your choice and donate generously in the IT Dindee
You can send your donations to Mrs Ritu Manoj Chordia at

babu.ritu@okicici

via UPI/PayTM/GooglePay
Please refer to Wari Seva section of this website for the details
Based on registrations, we will notify you with further details in the second week of June 2022