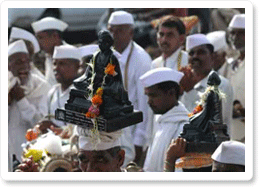 The annual Pandharpur Yatra (Waari) to the Vithoba Temple at Pandharpur in Maharashtra from Dehu and Alandi attracts millions of people and pilgrims known as warkaris.
Pilgrims follow the Shri Tukaram Maharaj Palkhi from Dehu and Sant Dnyaneshwar Palkhi from Alandi, which is a 21-day travel by foot to Pandarpur.
In 2017, Ashadi Ekadasi comes on July 4, 2017. A day before this day, both palakhis from Alandi and Dehu reach Pandharpur.
This year, the date of prasthan of Sri Sant Dnyaneshwar Maharaj Palakhi from Alandi to Pune is on June 18, 2017. Prasthan Sohala happens a day before which is June 17, 2017.
Please contact Govind Patil (+91-98509 27785) or Raghvendra Katikar (+91-88888 11705) or Vrushali Katikar-(+91-95272 98190) or Renuk Pawade (+91-98509 52218) or Suresh Talekar (+91-98215 80888) or Prasad Kulkarni (+91-98508 11066) or Kedar Gadgil (+91-90110 13973) or Shrihari Gadewar (+91-94225 39843) for more details.
Ashadhi Ekaadashi this year is on Tuesday, July 4, 2017
IT Dindee volunteers walk every year from Alandi to Pune. This distance is approximately 21 km. The group assembles at Sri Sai Mandir at the outskirts of Alandi. This assembly begins at around 5:30am as later it becomes difficult to reach to this spot. So we recommend everyone to start from their respective homes in Pune at around 4:00am. Last year we have done common bus to take the group to Sai Mandir, we are yet to decide this year's arrangements looking at the response we will receive from you all devotees. When we assemble at Sai Mandir, first one hour goes in saatsang where everyone sings bhajans. Around 6:30am, we stand on the main road where one can see Sri Sant Dnyaneshwar maharaj palakhi approaching the Sai Mandir. Once palakhi reaches the spot, all IT Dindee members take the darshan of palakhi and start walking towards Pune along with all waarkaries. We all need to observe the utmost discipline and make sure we do not disturb the traditional palakhi norms. There is lot to learn from waarkaries during this devotional march. Usually first one hour is bit crowded when we begin from Sai mandir but later it gets spread along the route as waarkaries stop for the breakfast /lunch etc. We also take lunch break near Vishrantwadi around 1:00pm or so. We reach Shivajinagar at around 4:00pm. During this walk, we recommend following things:
Please wear white pajama and kurta with white cap preferably.
Take a light breakfast snacks and lunch pack along with bottle of water.
Also carry an umbrella, napkin, mobile phone, and some money with you.
Please bring one set of taal and print out of some abhangs that may want to sing along the route.
About Dindi Program
Day
Start Time
Friday
28-06-2017
Saturday
29-06-2017
Sunday
30-06-2017
Monday
01-07-2017